Perform at our Open Stage
Our Open Stage at the Culture Night is looking for artists.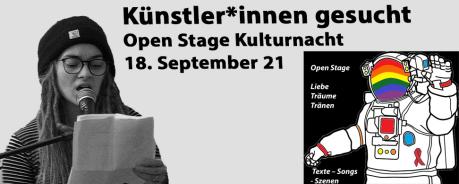 This year, the AIDS-Hilfe Ulm takes part at the Culture Night of Ulm with an Open Stage. The Open Stage with the motto "Love - Dreams - Tears" offers visitors a colorful bouquet of contributions and entertainment with texts, songs and scenes in three rounds. With the Open Stage "Love - Dreams - Tears", the AIDS-Hilfe Ulm looks back on 40 years of AIDS. Artists of all areas can take part, from poetry slams and songs to dance and drama. Our dear Wilma will guide you through the evening.
It starts on saturday, september 18 at 7:30 p.m. We have three rounds of performances starting at 7:30 p.m., 8:20 p.m. and 9:10 p.m. You can take part in one or more rounds. If you want to perform, you can register at the AIDS-Hilfe Ulm by September 10th. Poetry slamers, songwriters, jugglers, dancers, comedians and actors/ actresses can take part. Whether with a song, poem or dance. Registration at eberhardt@aidshilfe-ulm.de  It is only important that for reasons of space you only perform alone or in pairs, do not need an amplifier and a performance does not last longer than ~ 6 minutes. You are welcome to share our artist search. Thank you!
Contact

Bernhard Eberhardt
Prävention
Public relations
Diplom Sozialarbeiter (FH)
Prevention events, campaigns for World AIDS Day, press and media work, website