-
Checkpoint 14. Juli
On July 14th HIV / STI test at the Checkpoint Ulm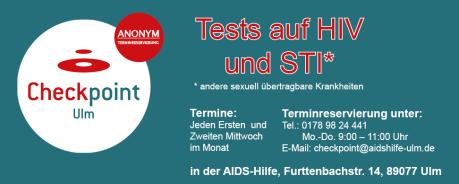 Location
Checkpoint AIDS-Hilfe Ulm
Address
Furttenbachstr. 14
89077 Ulm
Germany
Wednesday July 14th is the test evening at Checkpoint Ulm. You can find yourself in the rooms of the Have Ulm AIDS Help Tested for HIV and other STIs. A test at the checkpoint on July 14th is only possible with an appointment. Personal consultations and tests for sexually transmitted diseases can be carried out at the checkpoint under the following conditions:
Appointments can be made in advance by calling 0178 9824441 from Monday to Thursday. 9:00 a.m. - 11:00 a.m. or by email checkpoint@aidshilfe-ulm.de
After making an appointment, please fill out the online questionnaire at home with your call number.
Further information on the procedure on the test evenings on July 14th:
Please arrive on time so that as few visitors as possible are in the waiting area.
In the event of a delay, the appointment will be forfeited without replacement.
Only single appointments are possible. Couples please book two dates.
Unfortunately, accompanying persons are not allowed to enter the premises.
It is compulsory to wear a face mask during your entire stay in our premises, please bring it with you.
Disinfect your hands when entering our rooms and pay attention to the minimum distance.
Payment can currently only be made cashless (EC card).
Please do not come if you feel sick and have cold or flu symptoms.
Contact

Dr. biol. hum. Waltraud Schwendele
Checkpoint
Prävention
Public relations
Rainbow Team
Diploma social worker (FH)
Checkpoint coordination, prevention at schools, contact person for the Rainbow team, prevention work for men who have sex with men (MSM)

Bernhard Eberhardt
Prävention
Public relations
Diplom Sozialarbeiter (FH)
Prevention events, campaigns for World AIDS Day, press and media work, website